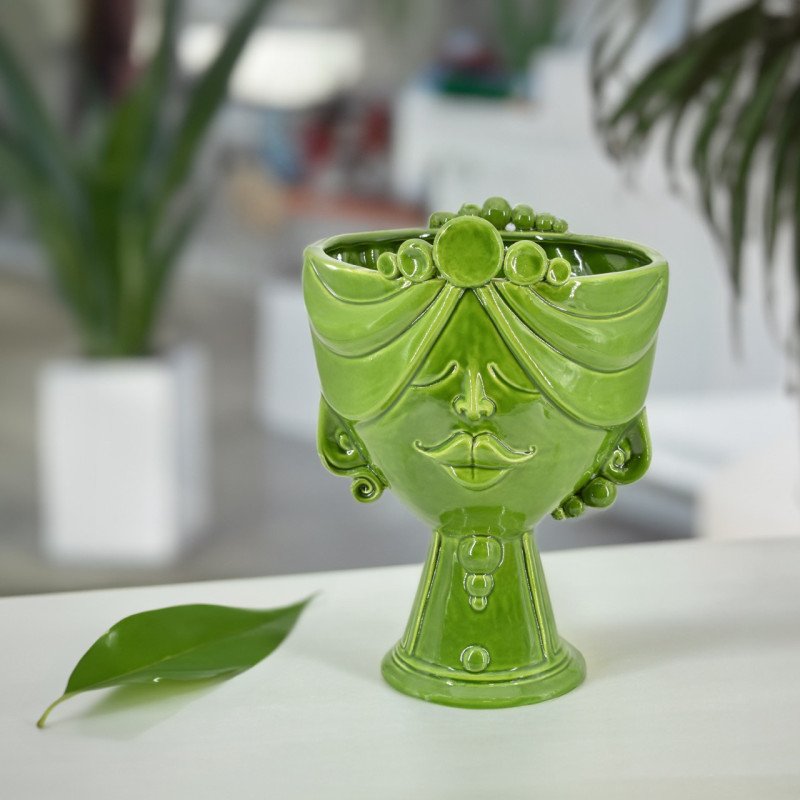 Scrool mouse to zoom in or zoom out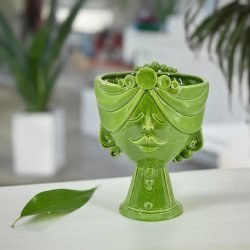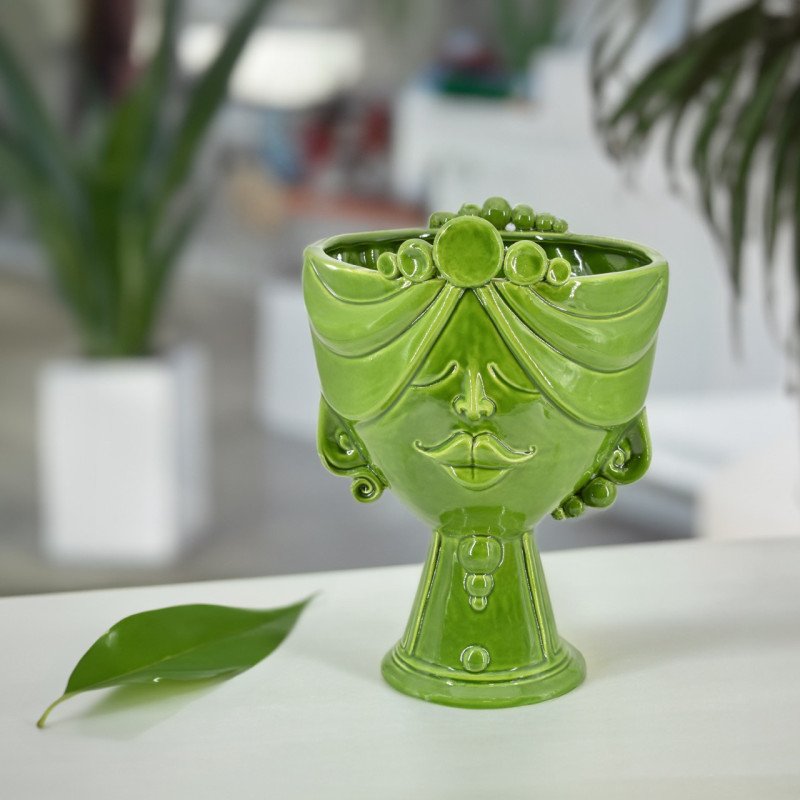 Modern Moor's Head h 30 Zahira Green leaf woman
Rif: 12.VF724a
Decor: Green Leaf
The product is available in the following sizes: 30 cm height.

Designed and decorated by hand.
See the processing phases of our ceramics
The Modern Moor's Head Zahira represents the new modern line in handcrafted majolica from Caltagirone; it is a unique and elegant piece made with traditional techniques by skilled artisans. This modern dark brown head, characterized by an intense green color, represents the new line that knows how to express the modern world in all its beauty. The vase, in its contemporary reinterpretation, becomes a unique design element capable of giving a touch of elegance to any environment.
Modern Moor's Head Zahira in Green leaf design
Made and decorated entirely by hand.
The Moorhead Shaped Vase, handcrafted by Ceramiche Sofia of Intonato brothers Nicola and Intonato Giuseppe, is a unique work of art. This Moorhead Shaped Vase has a height of 30 cm and features a refined Leaf Green decoration.
Ceramiche Sofia is a company based in Caltagirone, Sicily, Italy, renowned for the production of high quality art majolica. Each stage of workmanship dedicated to the creation of this vase is carried out with the utmost care, ensuring an exceptional and long-lasting end result.
Caltagirone majolica is renowned worldwide for its uncompromising quality and attention to detail. The dark-headed vase produced by Ceramiche Sofia is an authentic fine piece that can add a touch of sophistication and charm to any setting. With its inherent beauty and attention paid to each individual element, this vase stands out as a work of art that can be admired and appreciated for generations.
Data sheet
Decoro

Green Leaf

Height

30 cm

Genere

Donna
Moorish Head sicily
Italian ceramic handmade
All our products are handmade. Any perceived imperfections or irregularities are to be considered as peculiarities of the products and not defects. Our production process is laborious and consists of several stages: moulding, first cooking, decoration, second cooking, ageing. Thus, we can give our customers unique, matchless and unalterable products.
Is this your first order?
Please, contact us. We will be pleased toprovide any information you may require.
Secure payments