Scrool mouse to zoom in or zoom out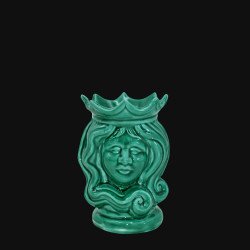 Modern Sicilian ceramic "Moor's head" from Caltagirone.
Rif: 12.SVI316a
Decor: Verde integrale
The Product is available in the follow sizes: 15 cm height
Designed and decorated by hand. Beautiful ceramics from Sicily in Caltagirone.
Data sheet
Decoro

Verde Integrale

Height

15

Genere

Donna
Moorish Head sicily
Italian ceramic handmade
All our products are handmade. Any perceived imperfections or irregularities are to be considered as peculiarities of the products and not defects. Our production process is laborious and consists of several stages: moulding, first cooking, decoration, second cooking, ageing. Thus, we can give our customers unique, matchless and unalterable products.
Is this your first order?
Please, contact us. We will be pleased toprovide any information you may require.
Secure payments