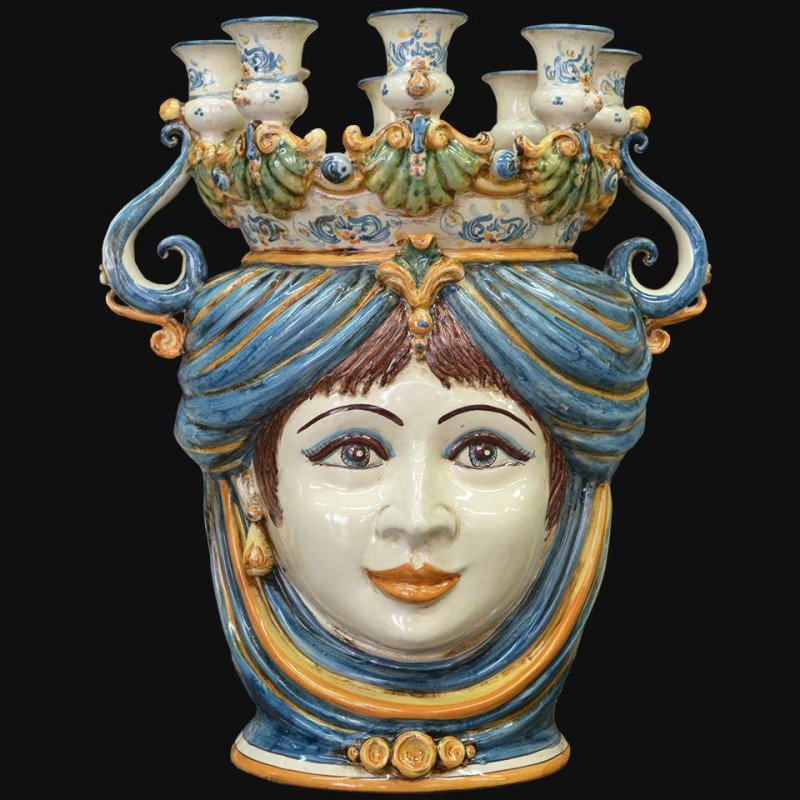 Scrool mouse to zoom in or zoom out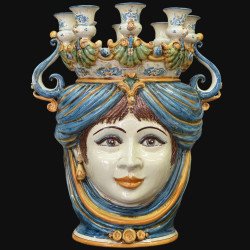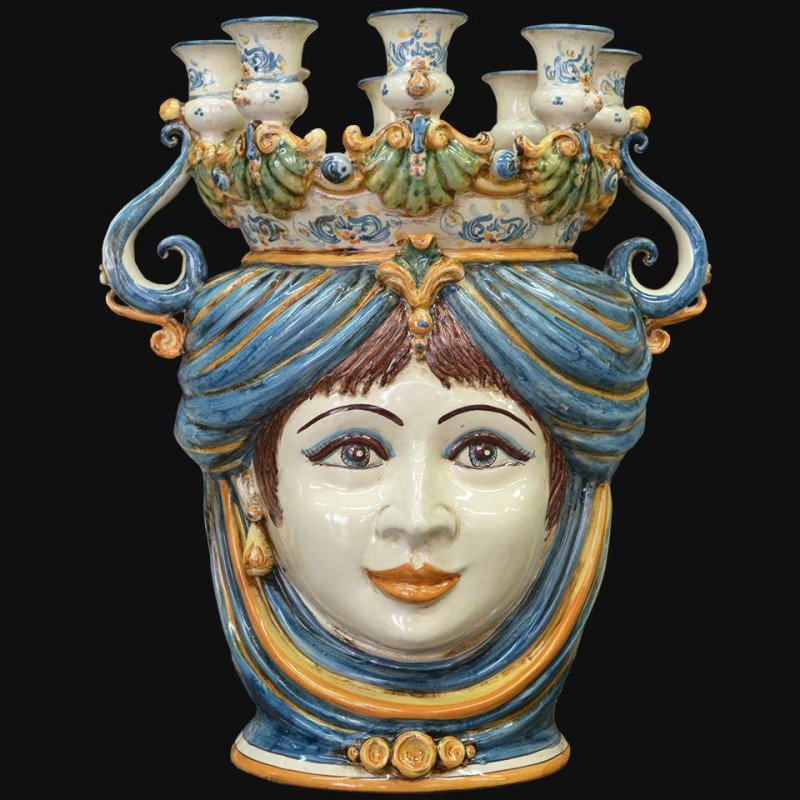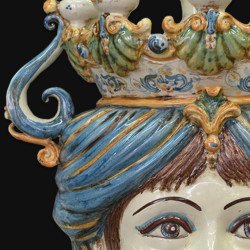 Candlestick head h 40 blue/orange female
Rif: 12.MBA038a
Decor: Modellato Blu e Arancio
The product is available in the following sizes: 42 cm height.

Designed and decorated by hand.
Moorish Head
Made and decorated entirely by hand.
Ceramiche Sofia of brothers Intonato Nicola and Intonato Giuseppe is a company from Caltagirone (Sicily, ITALY) that produces art majolica. The manufacturing processes that lead to the creation of our ceramics are divided into six important phases: turning, drying, first firing, enamelling, decoration and aging.
For each of these phases we dedicate the utmost care to every detail so that the final product is the result of a unique work, inimitable and unchanged over time.
See the processing phases of our ceramics
The realizations of these heads are carriers of light and wisdom, according to the meaning interpreted by the artist: LIGHT, which is a verb of the verb phainò, which means "Show", "make manifest", derives from the Latin "< em> Lux " which means" illuminate "and therefore" show ".
It is this meaning that our philosophy has seen in the light, understood as what allows us to see, to distinguish forms, the depth of reality. I am sure that I am no longer able to see. And it is precisely the light that reveals and reveals; what is not illuminated is not given to us to know.
The History of the Beautiful Sicilian Girl and the Legend of the Black Head The city most famous for making these heads is Caltagirone, near Catania. The legend of their origin comes from Palermo, though, in the district of Al Halisa (nowadays called La Kalsa). A young lady, so the story goes, loved cultivating flowers on her balcony. One day a Moor passed below and became infatuated with her, declaring his undying love so beautifully that she, in turn, fell in love with him. The story took a sinister twist when she found out he was married with children! Appalled at the deception and insult to her virtue, she cut his head off. Now, what to do with it? She decided it would make a perfect plant pot.
Data sheet
Decoro

Modellato Blu e Arancio

Height

40

Genere

Donna
Moorish Head sicily
Italian ceramic handmade
All our products are handmade. Any perceived imperfections or irregularities are to be considered as peculiarities of the products and not defects. Our production process is laborious and consists of several stages: moulding, first cooking, decoration, second cooking, ageing. Thus, we can give our customers unique, matchless and unalterable products.
Is this your first order?
Please, contact us. We will be pleased toprovide any information you may require.
Secure payments